A bag can either make or break an outfit. It plays an important role to decorate the personality of a man as well as woman. Choosing a bag which suits and highlights your outfit is something you must stress on. Want a bag that can make you look stunning? Here we are with the most attractive and desirable collection of polyester bags in India.
Our highly decorated experts provide you with the most stylish bags. A high range of bags from exclusive occasion bags, stylish shoulder bags, totes, shopping bags, beach bags, promotional bags, picnic bags, slings, backpack, across-the-body bags, promotional drawstring bags, sports bags, gym bags, travel bags, or any style bags are available with us. We are an experienced promotional polyester bag manufacturer in India. The polyester cloth bags are reusable and have a nice look and feel. Hence, these bags are so attractive that it can be taken anywhere you like.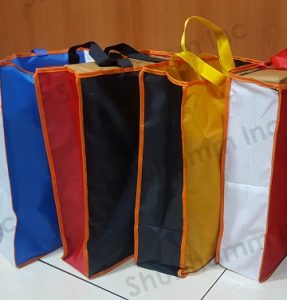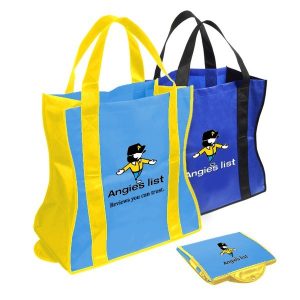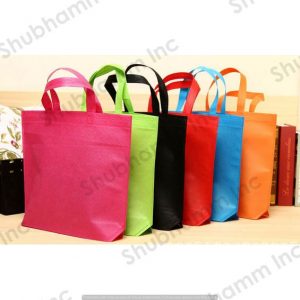 Promotional Polyester bags
We are aimed at providing our products that seems to be an alternative to the plastic bags. Therefore, we are here with Promotional Polyester carry bags. These Eco friendly bags are easy to carry, long lasting. Also, these bags are cost effective. Bags such as polyester bags, canvas shopping bags, cotton cloth bags can be said to be as alternative to the plastic carry bags. Reusable bags helps to reduce the carbon footprint in the environment; hence saving the environment.
Ongoing competition in business, marketing plays an integral part in stability of a company. Promotional bags are one of the medium of marketing and advertisement. The company name or logo printed on the bags makes them look branded and also acts as different but innovative medium of marketing. Hence, promotional bags gained a lot importance in the recent years.
Logo Printing on Bags
We, Plume Umbrellas (by Shubhamm Inc), are appreciated for being the leading Promotional polyester bag manufacturers in India. Logo printing on bags and umbrellas has recently gained much importance. It has become a normal fashion to advertise your company through such means.
To meet the demands of our client, we have started manufacturing promotional polyester bags. This includes printing logo of the companies on our bags. We got a great response from our clients, which gave us encouragement to manufacture more of them. Since we provide many polyester carry bags with the logo printed on it, the bags look quite interesting and attractive.
As these bags are long lasting, the promotional polyester bags can be used by the customers for longer period. Brands will be seen by the bag users for a great time. Logo printed on the polyester carry bags are clear and highly designed. So, the bags can be used as grocery bags or shopping bags. Shubhamm Inc provides logo printed shopping bags or logo printed cotton bags.
Carry promotional polyester bags, carry fashion while saving the environment.