There are very handful garden umbrella manufacturers in Mumbai. Garden umbrellas are preferred by companies whose marketing strategies are very strong. Garden umbrellas are used on road side by vendors or any stalls on the street, be that the tea stall or paper stall or a road side hawker. Stylish and attractive umbrella find their applications in resorts, restaurants, offices and homes.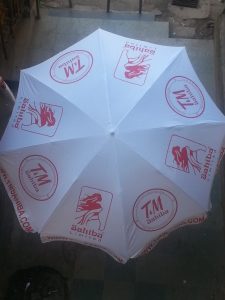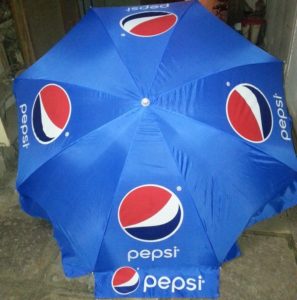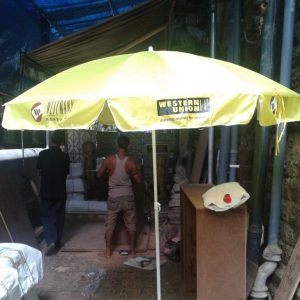 Garden Umbrella Manufacturers In Mumbai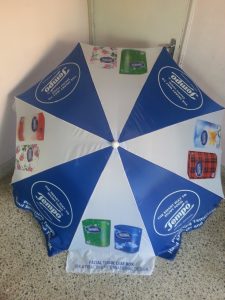 Garden Umbrellas are not meant for personal use, the use is restricted for outdoor promotions. Garden umbrellas are manufactured in sizes like 36" 40" 48" 54" and 60" (radius of the umbrella after opening). The offered umbrella is designed and developed by the professionals using premium grade raw material.
Garden umbrellas are also used for business promotion or sales promotion or product launch and many more activities. With an experience of more than 10 years in the industry of umbrella manufacturing, we Plume Umbrellas (by Shubhamm Inc) have developed a strong base in Garden Umbrella Manufacturing and which is why we feel proud to withstand amongst other competitors and be tagged as a genuine Garden Umbrella Manufacturers in Mumbai.
There are more than 100 raw materials required to manufacture one single umbrella. These raw materials are assembled at one place and then the formation takes place. It seems simple but indeed can be considered one as the toughest product to manufacture. To involve more than 100 raw materials at one time and get the outcome with a minimal help of machinery and purely a creation of two hands is what it makes so special.
We, Plume Umbrellas (by Shubhamm Inc), always try to make sure that all the raw materials remain intact and the final product meets the needs of the buyer eventually. Plume Umbrellas (by Shubhamm Inc) are one of the finest garden umbrella manufacturers in India, and to survive in this competitive market, the entire team from the assortment of raw materials to the assembly give their best.