We have a large selection of customized umbrellas with different styles, colors and patterns. You can get a variety of umbrellas to get most of the event that can be custom branded from top to handle.
Customized umbrella attracts many people as more of them are fascinated towards a customized umbrella. Many customized umbrella manufacturing companies import raw material from China and assemble them. Hence, Shubhamm Inc, customized umbrella manufacturer in Chennai, stand different as we manufacture the raw materials  for umbrellas in our company. Thus, it proves to be a bit costly, but we ensure high employment opportunities and promote Indian Industry.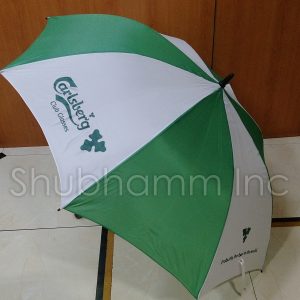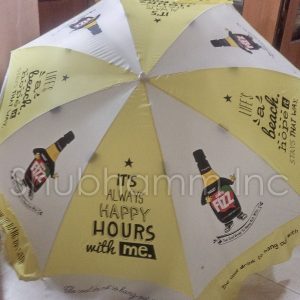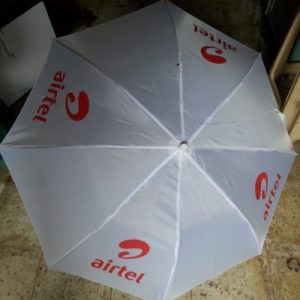 While one can't assure the quality when the raw materials are imported, we can assure you the best quality. A constant quality check on our products made us to reach to being the top customized umbrella manufacturer in Chennai.
Logo Printing on Umbrellas
Customized umbrella means we need to meet the requirements of the customers in all possible ways. There are 7 different parts where a logo or a company name can be printed on an umbrella. Logo imprinted on umbrella give a branded look to the umbrella users and for them who follow brands. However you can carry the logo printed umbrellas anywhere for a longer period as we provide them with a long lasting feature. Also, the logo printed on the umbrellas are long lasting as they are printed with a good clarity.
Logo printing on umbrellas are trending measures of advertisement in the marketing industry. Nowadays, many marketers prefer value building through customized umbrellas. Umbrellas are majorly used by people and remember them more than before. Businesses looking forward to huge profits know the importance of advertisement with logo printed customized umbrellas. these umbrellas are used by many people.
Plume Umbrella (by Shubhamm Inc) is consistently trying to give the best quality to the patrons. Sacrificing on quality is never been our practice. To increase the quality of our customized umbrellas, we never cut price. We invest more in getting high quality raw material.
For the stability of a business expertise efforts are required. Our continuous Research and development in umbrella manufacturing made us capable to innovate the uses of umbrellas and made it versatile in nature. In recent times umbrellas are not only used for protection from sun and rain. They are used as medium of advertisement or marketing. The skilled professionals working on providing you with best customized umbrellas, made us one of the leading customized umbrella manufacturer in Chennai.
There are more than 100 umbrella manufacturing companies in Chennai. These companies mostly cater with the domestic markets. Our company not only provides services in Indian markets but also in International markets. With our continuous efforts, innovation and dynamic ideas, we have gripped our foots in International markets.